For the production of your badges, we accept files in JPEG, TIFF, EPS or PDF format.
The resolution of your file must be at least 300 dpi and your image in CMYK colorimetric mode .
For a four-color solid black , we recommend the following distribution: C60, M60, J40, N100.
If you want to use the edge of the badge to indicate information, we advise you to use the Arial font in 4pt or 4.5pt
Vectorize the texts [or attach the fonts to your shipment] and don't forget to attach the files of the linked images if you use them.
Do not judge the quality of the colors on your screen in relation to the printing of your products, especially if it is not calibrated or used in an adequate environment.
Templates for the realization of your visuals
A template is made up of 3 markers:
The red dotted lines represent the useful area delimiting the text and/or main visual inside the circle.
The dimensions of the useful area of ​​your visual correspond to the clearly visible area of ​​the badge. They must be smaller than the diameter of the badge, to compensate for its external curvature. Your patterns can go beyond, but not your text, otherwise it will read on the edge. It must therefore be less than the size of the badge to compensate for the external curvature. So the text must be written 2 mm from the edge of the useful area.
The black dotted lines represent the front side of the badge.
The total size of your image must be larger than the outer size of the badge because it is important to have a "bleed" for printing the border. In this example, the background of your visual should touch the black circle.
The black circle represents the cut line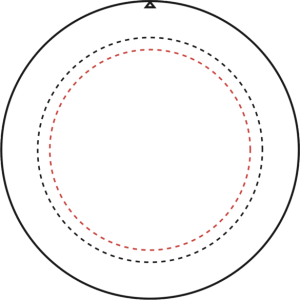 "We check each logo and only start printing after you have agreed on the proof received, not before. Your satisfaction is our satisfaction!"
Before printing, a proof is submitted for approval, it allows you to check the layout, logos, texts of your badges. This is the time to send us your comments before the start of production.
– For orders over 100 badges we send you a sample of the product by mail.
– For orders of less than 50 badges, we send you a digital proof by email*.
*Due to the differences between the view on the screen and the print, we cannot guarantee the rendering of the colors on a proof transmitted by Internet.